May 30th 2022 Exploring the Universe from the Suburbs
Speaker Kym Thalassoudis
Kym Thalassoudis, PhD, President, Astronomical Society of South Australia spoke on Exploring the Universe from the Suburbs.
Astronomy is the oldest and most accessible of all the sciences. Anyone can look up at the night sky and explore its many wonders using their eyes, binoculars, or a telescope.
Kym will provide a short introduction to the Astronomical Society of South Australia and how anyone can locate and observe the many celestial objects in the night sky. Kym described some of the astronomical equipment often used by amateur astronomers, including advanced imaging telescopes, and concluded by showing several photographs of celestial objects taken from suburban Adelaide. 
Kym enjoys a life-long passion for Astronomy & Space with several interests including celestial cartography, Astronomy outreach and most recently Astro-imaging. Since January 2000 Kym has published The Evening Sky Map each month at www.skymaps.com to help sky watchers worldwide discover the wonders of the Universe. Prior to retirement in early 2019, Kym was employed for 30 years as a Rocket Propulsion Scientist at the Defence Science & Technology Organisation.
May 2nd 2022 Hero to Zero
Speaker Rod Lovell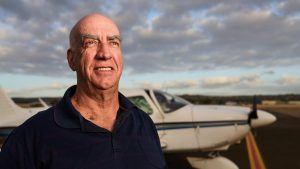 Retired Captain Rod Lovell presented the story behind his book "Hero to Zero" sharing his experiences as the pilot forced to ditch a DC-3 aircraft into Australia's own Botany Bay after encountering problems just seconds after taking off from Sydney Airport.
Rod shared a candid account of why he chose to ditch the aircraft and how he had just 46 seconds to make a decision that changed his life forever.
His talk was filmed at another meeting and may be viewed by clicking here
November 29th A View from the Cross-bench
Speaker Mark Parnell
Former Member of the SA Legislative Council, Mark Parnell, discussed how things really work in Parliament, and how people in the community sector can effectively
Reflecting on his time in Parliament, Mark explained that South Australians should be grateful for an active crossbench, less interested in point-scoring and "gotchas", noting that neither Liberal nor Labor had controlled the upper house since the 1970s.
Mark discussed the planning and development system in South Australia. On his election he had been the only qualified planner in Parliament. He illustrated with examples the trend over the past 20 years for South Australians' rights to engage in the planning process to be eroded, and how SA land use planning had in many ways become a box-ticking exercise, with the pervasive attitude in the planning department that the community was there to be tolerated.
Mark Parnell offered some direct advice on lobbying.
• The starting point is to clearly know what you want.
• It is important to recognize that just presenting a good argument is not enough.
• Give real examples that evoke a human response, such as the image of the squashed bird when campaigning for 4wd vehicles to be excluded from beaches when seabirds are nesting season.
• Understand the decision-making process – Parliament? Minister? Delegated to whom? What are the criteria?
• If you don't like the decision ring up, make contact, don't wait for an election.
• Recognize that the MP will be asking him or herself
o who is this from?
o what do I know about them?
o why should I care?
o what do they want exactly?
• Keep in mind that some MPs are smarter than you, that some are dumber, and that most of them genuinely think that they are on the right track. Approach them as though they are sincere.
• If you get a hearing and an outcome, thank them.
Mark's thought-provoking and very engaging address concluded with questions, answers and discussion of topics including recent reforms to the SA Independent Commission against Corruption; whether public protests have any influence; Birds SA's documentary on birds and beaches; online versus pen and ink petitions to Parliament; when to engage with the local member and when to go to the Minister; online fundraising for campaigns; possibilities for more citizen initiated decision making; climate change and population growth.
October 25th A Diplomatic Life
Speaker Bob Carmichael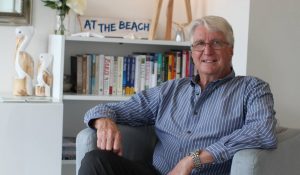 Association member Bob Carmichael provided a sometimes wry account of the origins his diplomatic career and the often unexpected turns it took through postings to China, the Phillipines, South Korea, Italy and Indonesia.
Bob explained the different kinds of diplomatic representation Australia has at overseas embassies and consulates, and how attractive an overseas posting had seemed to a young man working for the Export Development Grants Board in Adelaide in the 1980s. He mapped out his journey on the way to becoming a Trade Commissioner, the kinds of work he and his colleagues undertook in different countries and shared his insights into the very different cultures he and his family experienced.
Bob's presentation took a sobering turn when he discussed his experience of the bombing of the Australian Embassy in Djakarta on September 9th 2004, resulting in 11 deaths, many injuries and great property damage. A two-tonne truck bomb had been exploded immediately in front of the Embassy.
Bob Carmichael's photos graphically showed the scale of the physical damage, as he explained how he and others immediately and subsequently reacted to the bombing of their workplace.
Bob's absorbing presentation was followed by questions and answers about cultural and religious prejudice and tolerance; who claimed responsibility for the bombing; their attitude towards the local people who were killed and injured, and the current security situation.
Bob's presentation can be viewed here
September 27th Super SA and Funds SA
Speakers Dascia Bennett and Jo Townsend
Chief Executive Dascia Bennett outlined Super SA's current work and new initiatives, and Funds SA Chief Executive Officer Jo Townsend discussed her organisation's priorities, and key aspects of financial markets and investment returns.
Dascia outlined Super SA's role in administering one of the oldest (118 years) and most complex set of superannuation schemes in Australia and its attention to member research and benchmarking against other funds. Research had shown the organization as trusted but regarded as limited in its service offerings.
Services were now being upgraded with better arrangements for financial advice, enhanced contact services, a new outbound call facility, a new member centre, and a more intuitive and straightforward website, with 14 landing pages instead of 250.
Dascia noted the importance of data security for Super SA in administering access to $35 bn. in funds, with many data points and lots of "dark web" cyber risks. The 2021 Covid-19 early access to super saw two or three attacks which were picked up early through rigorous controls, unlike the experience of several other super funds.
In mid-2022 the Triple S fund would move into a competitive environment with the introduction of choice of fund. Dascia noted that Super SA currently gains and loses about 8,000 members annually as people join and leave public employment in SA, and under the new regime hopes to retain all of its current members and gain the business of all new public servants. The Commonwealth's "Your Super Your Future" initiative added impetus to Super SA's service upgrading, to be ready for the more competitive superannuation environment.
Dascia Bennett reflected on the challenging 2020 year with its volatile investment markets, negative returns and the call centre handling a big increase in enquiries from concerned members, many on the front line of the Covid response, but noted that Super SA did not see very many members transferring into cash.
By contrast 2021 saw very strong returns, and economic activity was expected to increase over the next 12 months. Super SA was very conscious of the welfare of its staff during the period of change ahead.
Dascia responded to questions on
• the Super SA member portal, being upgraded as part of the website changes (direct electronic interaction, two-factor authentication, but not yet for pension scheme members, until after choice of fund commences)
• Covid 19 early access withdrawals: – of approximately 145,000 SSS members, (56,000 no longer employed) about 13,000 had applied to withdraw an average amount of $8,000; pre-withdrawal counselling was offered; withdrawals included parents taking out money for children
• nominated beneficiaries and legal personal representatives.
Jo Townsend explained that Funds SA operated under its own legislation and had grown to 65 staff with an investment team of 20, working on all aspects of its investment strategy, and had developed new investment capabilities.
These included medium term (3-5 years) active asset allocation; the ability to co-invest with others in infrastructure and private equity opportunities; the ability to invest directly in property (eg, potentially to make a direct property co-investment with the Future Fund); and a new responsible investment policy.
Jo outlined that for Funds SA responsible investing was a financial outcomes process, and that a lot of work had been done to understand the individual approaches of investment managers. The most visible result has been proxy share voting.
Jo discussed Funds SA's key priorities in 2021. These included positioning for choice of fund, with the decision to increase the proportion of funds held as equity investments and providing investment product training to Super SA.
She explained that Funds SA has become a signatory to the United Nations Principles for Responsible Investment framework, and that complex work was being undertaken analysing climate risk.
Jo Townsend discussed the strong recovery in developed market global equities after their steep fall around March 2020 and compared that with global government bond yields over the same period, noting the very strong performance of the less conservative SSS investment options over the last 12 months.
Jo answered questions about
• the expectations of different asset classes over the medium term, noting the different performance now of traditionally defensive classes
• how Funds SA would respond to a request from government to invest in a particular way (explaining that it can't be directed in its investment decisions)
• the expected returns from active as against passive investment strategies
• commercial property values and returns, against a background of global increases in residential property prices
• how Funds SA exercises its votes as a shareholder.
Members appreciated Dascia Bennett and Jo Townsend making the time to join the meeting and update the Association about Super SA and Funds SA, and the latest developments in SA public sector superannuation.
August 30th The "City of Adelaide" clipper ship project
Speaker Peter Christopher
Peter Christopher, director of the City of Adelaide clipper ship project, explained the history of the ship, and the remarkable project to rescue it and bring it to South Australia.
The City of Adelaide was purpose built in 1864 in Sunderland UK to carry migrants to South Australia. It sailed to Adelaide for 23 years, spent 6 years in North America timber trade, after a brief time as a collier in Ireland, and in 1893 stopped sailing and became an isolation hospital in Southampton. In 1923 the Royal Navy took it over, renamed it HMS Carrick and moved the ship to Scotland as a cadet gunnery training vessel. In 1947 Carrick became Royal Navy Reserves club rooms on the Clyde River, Glasgow. After sinking in 1991, it was raised and moved to Irvine, onto private land. In 2000 the vessel faced being broken up, and an Adelaide volunteer campaign to save ship started.
After long negotiations, fundraising and a big engineering project, the Adelaide volunteer team succeeded in lifting the ship in a specially designed cradle and transporting it to Port Adelaide, arriving in February 2014. On the way HRH The Duke of Edinburgh renamed the ship back to its original name, City of Adelaide.
The ship now sits on the barge Bradley in Dock 2, Port Adelaide. It will be moved on to adjacent land in future to form the centre-piece of a Seaport Village, a maritime version of the Sovereign Hill village in Ballarat. The final cost to complete the whole project will be about $25 million, and involve commitments from commercial partners.
Peter explained the significance of the project to Australia's social history, with 250,000 people able to trace their heritage back to the ship, including some well-known families. Peter set out the current activities to continue the restoration of the vessel sympathetically with its history, and how it is open every day to be visited as a tourist attraction, operated by volunteers often with a family connection with the ship. His absorbing presentation concluded with answers to several questions, such as where the ship originally docked (near the present red lighthouse), access to the original designs, volunteer numbers (50 active, 50 on the books), how to access the ship, installing the masts, and the relationship with the Maritime Museum (through "Museums of the Port").
One comment during Peter Christopher's presentation was that the project stood as a great example of what a volunteer group can accomplish.
June 28th Justices of the Peace
Speaker Geoff Penhall
Geoff Penhall, Vice President of the Royal Association of Justices of South Australia, explained the role of a Justice of the Peace, defining what a JP is, the need for JPs, how JPs are appointed, the powers assigned to them and their limitations, jurisdictional boundaries, appropriate behaviour for a JP, as well as the function of the Royal Association of Justices of SA Inc. in supporting the 2,500 JPs in South Australia.
Geoff discussed the underlying need for confidence that documents have been certified by a person who is competent, objective and not conflicted, and outlined some of the difficult situations a Justice of the Peace can encounter, where documents are complex, incomplete, or the deponent or declarant does not seem to understand them, perhaps because of illness, or there may appear to be an element of undue influence or duress.
Geoff Penhall's thorough and illuminating presentation concluded with a discussion of the work of some JPs rostered to sit as Special Justices at SA Magistrates Courts, followed by answers to questions touching on JPs' indemnity for honest mistakes or omissions, how to distinguish a copy from an original, and the role of JPs in regional areas in relation to search and arrest warrants.
Geoff's Presentation may be viewed by clicking here.
May 31st 2021 – Road Rules for Older Drivers
Speaker Penny McKenzie
Penny McKenzie from the RAA's Community Education branch explained that while older drivers are generally more experienced, courteous, law abiding, and not risk-takers, driving is now more complex: there are many more cars on the road, 1.7 million now in SA, and many new road rules.  Penny took the meeting through a series of slides illustrating the give-way rules for merging, turning, and various intersection scenarios.  Members used interactive keypads to individually select which vehicle should give way, and then saw the correct answer, and a summary of all responses.
Penny's presentation and discussion included use of mobile devices as GPS units, required separation distances and permissible line crossing when passing cyclists, safe vehicle following distance, how school zone speed limits work, roundabouts and indicating, U-turns, speed limits past emergency vehicles, and what to do after a crash. Penny concluded with questions and answers or comments on electric bikes, insurance for privately owned electric scooters, motorised skateboards, tailgating, and warnings from approaching cyclists. 
One member answered all questions correctly, to everyone's admiration!
                        (The road rules quiz was very engaging and informative.  The RAA presents it through a range of community organisations: well worth attending. We will invite the RAA to speak again sometime in the future.)
May 3rd 2021 - Super Contributions: Opportunities and Rules
Speaker Carolyn Carwana
Carolyn Carwana from Super SA's Member Education team took the meeting through a comprehensive outline of the opportunities and the rules for contributing money to superannuation, particularly from the viewpoint of retirees. These included the opportunity (subject to conditions that need careful checking first) to make a substantial contribution from home downsizing.
Carolyn answered many questions on a wide range of superannuation topics, including superannuation contributions after 75; CPI adjustment of pensions; financial advice; "choice of fund" implications for the Triple S and Super Select schemes; spouse benefits; rolling over a spouse commutation, and maintaining a Triple S account after retirement. Discussion concluded with an outline of Super SA's Flexible Rollover product. Carolyn's thorough and engaging discussion of the topic and her clear and informative answers to questions were very well received, as was the support of her colleagues Wayne Hutton and Allan Ward, Super SA Head of Advice.
March 29th 2021 Food Bank
Speaker Greg Pattinson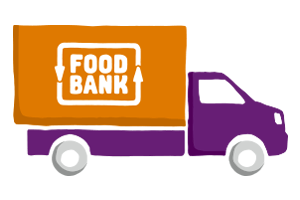 Greg Pattinson, Chief Executive Officer of Foodbank South Australia, presented a factual description of food insecurity in South Australia and nationally, and its causes. During the last 12 months 5 million Australians skipped meals, did not eat for a day or routinely cut down on meal sizes to make their or their children's food go further, because of living on a low income, unexpected bills, and rent or mortgage costs, with women disproportionately affected. Many people who never imagined the possibility of food insecurity find themselves going hungry. Greg then set out the scope of Foodbank's hunger relief work, assisting 135,000 South Australians each month principally through supermarket style food hubs currently at Edwardstown, Bowden, Elizabeth Mount Gambier, Christies Beach, Whyalla and Murray Bridge, providing food equal to $120 in retail value for each $20 charity-issued Foodbank voucher, including unlimited free bread, fruit and vegetables.
 Greg explained the well organised logistics and distribution system that receives donated and some purchased food from manufacturers, as well as from retailers, farmers and growers; and supplies it to the food hubs and other access points from warehouses in Edwardstown, Berri, Mount Gambier and Whyalla. Foodbank SA is run by the equivalent of 24 full time staff and 375 volunteers, and depends on corporate and individual donations. Foodbank estimates the value of its South Australian operations – food donated, food transport, volunteer workforce, and in kind donations of services and facilities- to exceed $22 million per annum. The SA government contributes about $200,000.
Greg's illuminating and thought provoking presentation was very well received. The Association has made a donation to Foodbank.
22nd February 2021 - Sir Charles Todd
Speaker - Mac Benoy

Association member Mac Benoy set out the many facets of the life and achievements of the "polychrome" Sir Charles Todd: Postmaster General for 35 years; enterprising, affable, collaborative and resolute public servant; meteorologist, astronomer, electrical engineer, horologist and surveyor, creator of the Overland Telegraph, federalist and internationalist …… the "undeclared Government Scientist" of his time.
In an absorbing presentation Mac explored what had attracted a young, talented and ambitious Charles Todd to colonial South Australia and how he had flourished here, and offered a glimpse of another, later South Australian civil servant as State development entrepreneur.
Mac's presentation can be seen by clicking here
24th February 2020 Topic - Aged Care
Speaker - Mathew Kelly, Goldsborough Financial Services
In a wide ranging presentation to over 90 members, Mr Kelly canvassed most, if not all, options for independent living in retirement including:
CHSP (Commonwealth Home Support Program) or the four level Home Care support package program (HCP). This program is subsidised by the Commonwealth Government, dependent on your capacity to pay. Entry to this program is through an ACAT(Aged Care Assessment Team). The Government's website (or telephone enquiry 1800200 422) sets out the various options for nursing home care. They are:
Option one. The RAD (Refundable Accommodation Deposit).
Option two. The DAP (Daily Accommodation Payment).
Option three. A combination of options 1 and 2.
Mathew also covered all the independent living and funding options.
Click here to view Michael's presentation